The Hummingbird Days of Summer
by
Vickie Henderson
| | |
| --- | --- |
| August--Since mid-July I've noticed a dramatic increase in hummingbird activity around my feeder. So much so, that I added a second feeder and am considering hanging another. When you hear an increase in chirps, shrieks and wing buzzing and sometimes see as many as four hummers converging on the feeder at once, you get the idea there are a lot of hummers out there. And this time of year, you can count on many of them being juveniles. | |
Hummingbird activity always gets my attention. Sometimes, I drop what I'm doing and go outside to sit in the middle of them for long periods. This provides for some interesting and fun observations, like the young hummer who darted into the hemlock branches to avoid the territorial male's aggression. Concealed from view, he perched motionless while the male hovered just two feet away, unable to see or hear him. Of course, when the male retreated and the youngster set his wings in motion, the gig was up and he was chased away at high speed.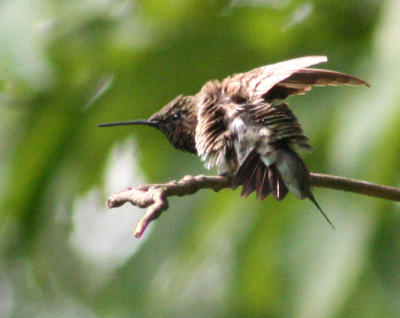 Male ruby-throat posturing
| | |
| --- | --- |
| It also becomes apparent when a single, dominant male is present and has claimed the feeders as his breeding territory. I refer to this hummer as "the King" and find it both fascinating and heart-rending to watch as he tirelessly defends his territory, day after day, with fury and vigilance. As time passes, you can see his appearance deteriorate as he neglects his own feeding and preening. | |
Male ruby-throat flashing his gorget and buzzing his wings while still perched.
| | |
| --- | --- |
| | Hummingbirds do not form pair bonds, but rather it's the male's job to attract females and breed with as many as possible. He attracts potential mates with his fierce temperament, his flashy ruby-red gorget and his territory's nectar source. As everyone knows, all hummers are aggressive at feeders, but a breeding male on territory takes this aggression to another level. In fact, their high-speed lifestyle takes its toll. Despite the fact that females build their nest, brood, and feed their young all alone, usually twice in a season, research indicates that female hummers outlive males by 25%. |
The arrival of a female to the King's feeders becomes obvious. She is allowed to drink without disturbance. Sometimes she may not even feed on the nectar at all, but instead, perch nearby and look up at the male. According to Bob Sargent, author of
Ruby-throated Hummingbird

, there are both visual cues and vocalizations exchanged between breeding males and females and he describes these vocalizations as "almost undetectable".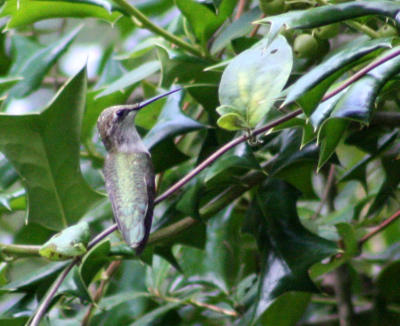 And then there're the sweet juveniles. When the King is otherwise occupied for a short time and they manage to reach the feeder without assault, their tentative approach and awkwardness gives them away. When the male does discover them, I find myself cringing and want to say, "lighten up, they're just kids." But no sound leaves my lips. It's the way of hummers.
Juveniles definitely don't have the speed or social skills of adults, but Sargent assures us they learn quickly. He says, "Studies indicate that immature ruby-throats are quick learners. Intolerant adults swiftly punish inappropriate social behavior. Vocal and physical rebukes by more experienced members of their own species quickly alter the actions of immature birds. Very young birds...soon become members of a disciplined social order." [Robert Sargent,
Ruby-throated Hummingbird, p 69.]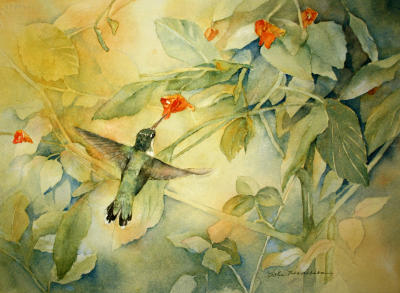 And when you think about it, this harshness, quick discipline, and relentless aggression, is the very thing that prepares these juveniles for survival so that one day they become the King or Queen of another breeding season.
You may also enjoy my blog post series, The King, about another territorial male ruby-throat and my posts on Hummingbird Banding.
As school gets underway, remember Operation Migration's Whooping Crane Activity Book is distributed free to educators for their classrooms. Visiting the link will give you a fun peek inside and you'll see how learning about Whooping cranes not only helps children use their imaginations but teaches them about conservation at the same time.
For the latest on my discoveries in nature, both in my backyard in other favorite places join me at Vickie Henderson Art where I share bird lifestyles through my camera's lens and my art. Also visit Vickie's Sketchbook where I share more about how nature inspires my art and how I make it.