September--Hummingbird Mania
by Vickie Henderson
I will just about come up with any excuse to sit outside with hummingbirds this time of year. I have four feeders hanging from the deck brace over my patio which is right outside my door. When first light arrives, the first birds I hear now are hummingbirds exchanging chirps at the feeders. I quickly make coffee, and I'm out the door to sit and enjoy them for as long as I can.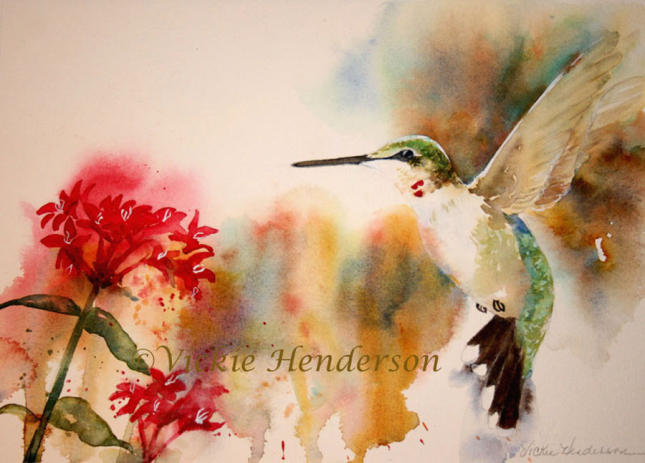 Sometimes it feels like I'm in the midst of a fairyland with more than a dozen hummers converging at the feeders all at once. Some are mere babies, their tentativeness giving them away. Other times, the area is dominated by aggressive juveniles, eager to flex their muscles and vocal chords. I like that energy. It means survival.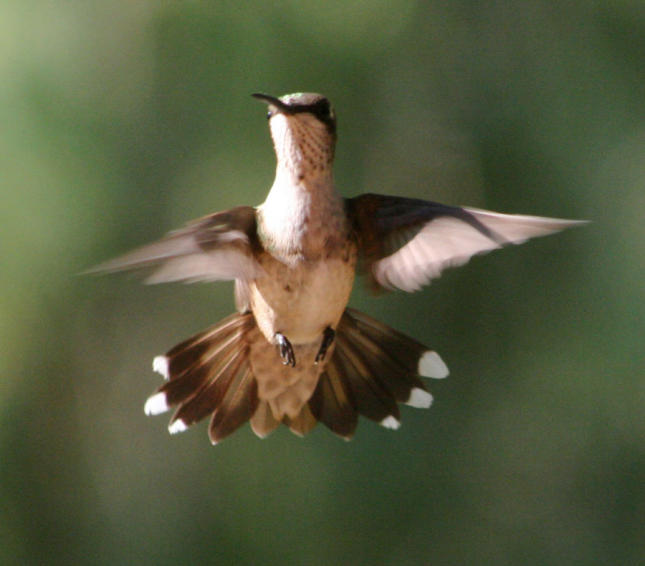 Right now, as I type, I can see one of the feeders through the window. Two males are sitting on opposite sides feeding at the same time. They remain undisturbed while others zip all around them. Earlier, a juvenile was aggressively claiming this feeder and another male had indisputable claim to the neighboring feeder. It's clear that plenty of males are still passing through. Just how they work out this social order is confusing to a casual observer, but it's clear they have very subtle communications that govern peaceful moments like this. The moment passes and is quickly replaced by the more aggressive displays that are so familiar.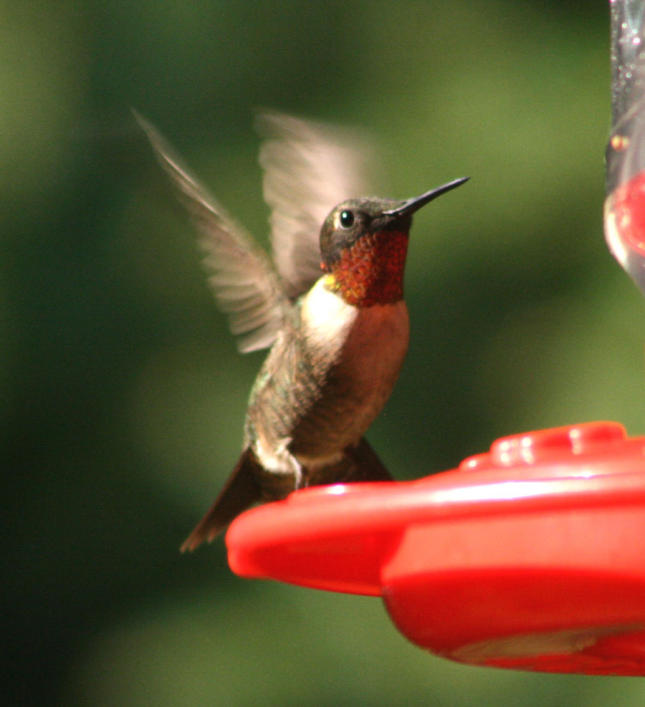 I suspect that anticipation of this migration season may have been in-part, what prompted me to plant more flowers only a few weeks ago. Besides, having bluebird withdrawal, and wanting more flowers and butterflies to keep me company for the rest of the warm season, I was looking forward to the arrival of hummingbird migrants, especially the juveniles and their fun antics. For example, early yesterday morning, I looked out the window to see one juvenile guarding from the very top of one feeder, another perched on the shepherd's hook which held a feeder below, and still another clinging to the empty chain next to a feeder, as though making himself inconspicuous until it was safe to drink.
Sometimes, I wonder how long they perch in the tree limbs watching the aggressive activities before they finally descend upon the feeders to try for a drink. There must be some kind of cooperative energy involved that brings them down in waves. While several pairs are fanning tails and giving chase, others settle on the feeders quietly, as if timing their arrival perfectly to take advantage of the chief aggressor's distraction.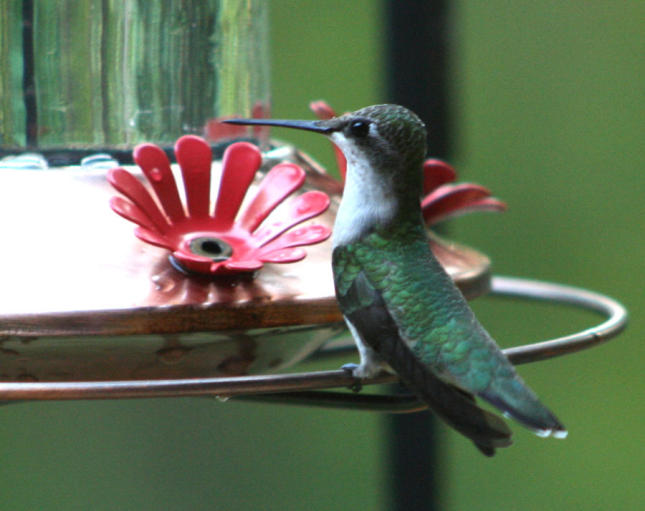 And then there are those sweet and unexpected moments, when you happen to be standing in the right place and a beautiful petite hummer gently lands on the feeder right in front of you. These are moments to treasure, the ones that endear these little jewels to us for a life-time and have us eagerly awaiting their spring return.
You may also be interesting in visiting: Late Plantings, Hummingbirds and Skippers at my bog, Vickie Henderson Art.
For the latest on my discoveries in nature, both in my backyard in other favorite places join me at Vickie Henderson Art where I share bird lifestyles through my camera's lens and art, and Vickie's Sketchbook where I share more about how nature inspires my art.
You can find my art on display at Knoxville's Wild Birds Unlimited