April—Landlord or Local Diner?
by Vickie Henderson
April 1st. Bluebirds can leave you scratching your head from day to day, wondering what their plans are for that empty nest box. This morning a pair of Eastern bluebirds appeared in the branches overhead as soon as I signaled with a whistle that the mealworm diner was now open for customers. I had barely closed the feeder top when the pair appeared, singing softly. I sat down on the patio and watched as first the male and then the female visited the dish of mealworms. It was especially gratifying to hear the female's contented little chirps as she fed. The male patiently waited for her on a limb, and then, poof, they were gone, the nest box serving as nothing more than a perch in route to the feeder.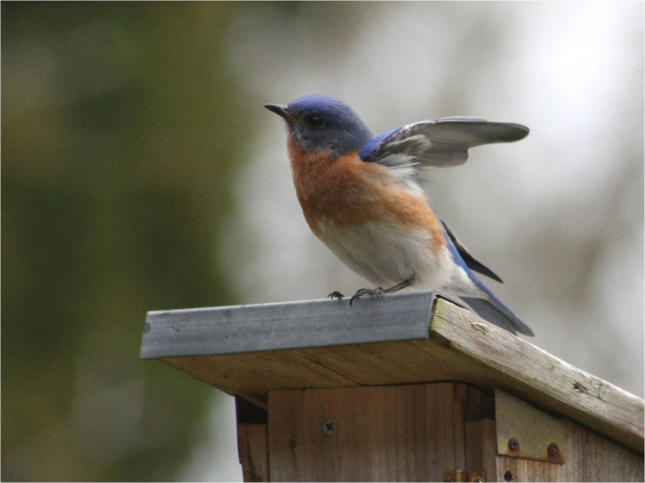 After they left, I watched a male tufted titmouse repeatedly visit the feeder and return to a limb to feed his waiting mate. This was definitely a smile-worthy observation. I have no idea where they are nesting but it is certainly somewhere nearby. The male frequently declares his territory with both song and scolding. The bluebirds, on the other hand, make me wonder if they are nesting elsewhere and simply stopping by for a snack at the local diner.
As recently as a week ago, the male and female landed on the nest box together and exchanged excited communications, both chattering and wing-waving. Above, you see the male wing-waving to encourage the female to join him on the nest box. And below, she has landed on the guard to check out the nest box. Wing-waving, an alternated series of wing-lifting, is expressed by both the male and female and seems to be used as a greeting and encouragement, strengthening the pair bond throughout the breeding season.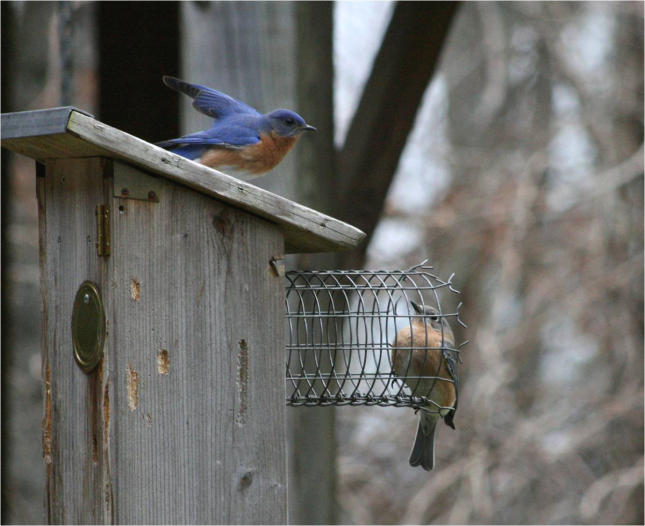 If it were not for last year's records, I would have given up hope that I will have a nesting pair of bluebirds in my nest box this season. My notes show that on April 8th of 2011, the pair that raised two broods last season in this nest box had not yet claimed it. In mid March the wintering flock began to disperse as one pair of bluebirds vigorously chased away flock mates as flock members moved on in search of breeding territories and mates. And while some bluebirds may still be indecisive at this date, others in our area are already incubating eggs.
On the other hand, I have a decisive pair of chickadees in charge of my second nest box. A Carolina chickadee is building her nest right on schedule with last year's nesting record. When I last checked the box on March 30th, the female had completed her thick base of moss and was placing a layer of soft grasses, hair, downy feathers, and other soft materials over it to begin forming the nest cup.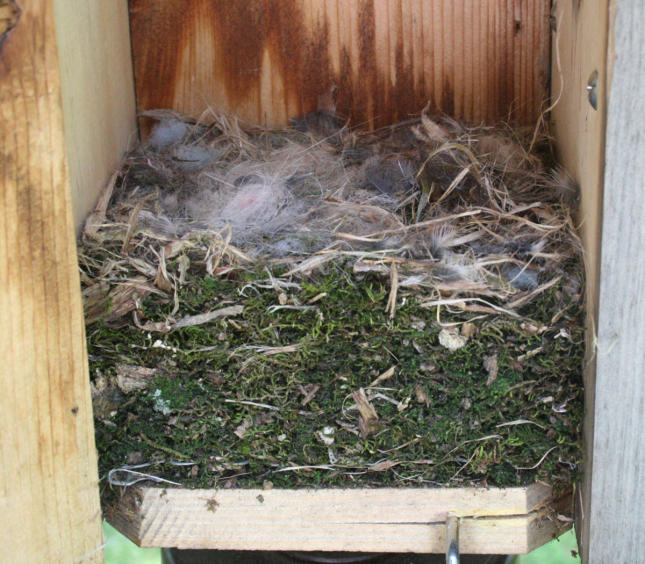 Chickadee nests are so soft and neat, they are astoundingly lovely.
Visit my art at Knoxville's Wild Birds Unlimited (WBU). I've recently added the Discover birds Activity Book, a children's activity book jointly sponsored by the TN Ornithological Society and designed to help get kids excited about birds.
Also, watch for my new book, Red-Shouldered Hawk Territory, coming to the WBU store in April. This fun, full-color, sketchbook-sized book contains my sketchbook journal as I follow the activities of a suburban pair of red-shouldered hawks through an entire nesting season.
And for your calendar of events, mark July 28th, 2012 on your calendar and plan to attend the Knoxville bird club's Hummingbird Festival to be held at Ijams Nature Center. At this celebrated event, you will enjoy an educational program presented by hummingbird authorities, Bob and Martha Sargent, of the Hummingbird Study Group, a chance to observe hummingbirds up-close as they are banded by Knoxville's Mark Armstrong of KTOS, and many nature-related exhibits. Much valuable information is learned from banding hummingbirds and scientists are still learning what these tiniest of birds have to teach us!
| | |
| --- | --- |
| | For the latest on my discoveries in nature, both in my backyard and in other favorite places, join me at my blogs, Vickie Henderson Art, where I share bird lifestyles through my camera's lens and art, and Vickie's Sketchbook, where I share more about how nature inspires my art. Also visit my website, Vickie Henderson Art, to stay up-to-date on events and new offerings. |