Hummingbirds - Everything You Need To Know
It's a Sweet Month to Feed the Birds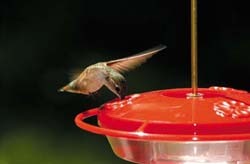 Spring migration is underway, and a countless number of birds are heading north to their nesting territories.
Fortunately, two of the hobby's favorite birds, hummingbirds and orioles, can be immediately attracted to feeders with nectar (and fruit and jelly for orioles), making it a sweet month to feed the birds.
Only 5% of all avian families include nectar as an important part of their diet, making hummingbirds and orioles part of a very exclusive dining club.
It only takes between 30 to 50 minutes for nectar to be digested, so hummingbirds must eat a lot and often. In fact, hummingbirds eat about every ten minutes and can drink up to twice their body weight in nectar every day.
However, no bird's diet is made up entirely of nectar. Nectar-eaters must also include other foods, usually insects, to obtain essential amino acids and other nutrients.
When orioles are not feeding on nectar or fruit, they forage for spiders, caterpillars and other insects. Hummingbirds spend more than 25% of their time foraging for arthropods, such as spiders.
You can attract hummingbirds and orioles to your feeders using slightly varying methods. Hummingbirds enjoy a nectar solution of four parts water to one part sugar. Orioles enjoy nectar, fresh orange slices, grape jelly and mealworms.
Watch Northern Migrations Online
Visit www.learner.org/jnorth/humm to monitor the northward migration of hummingbirds and www.learner.org/jnorth/oriole for an oriole migration map.
How Cool is That! - Hummingbirds
How to Attract Hummingbirds
How to Choose the Best Hummingbird Feeder
Meet Your Neighbors: Hummingbirds
WBU Decorative
Window Hummingbird Feeder
With our Decorative Window Hummingbird Feeder, only a window pane stands between you and "the jewels of nature" — hummingbirds. This feeder is easily mounted to any window with two suction cups, and its clear bottom allows you to see hummingbirds quickly lap up the nectar solution. The Decorative Window Hummingbird Feeder features three feeding stations and a moat that, when filled with water, will keep ants and other crawling insects out of the feeder. It's also easy to clean and comes with a lifetime warranty (even if it falls to the ground).
WBU Hummingbird Feeders
Get the attention of one of nature's most mesmerizing creatures with our WBU Hummingbird Feeders. These specially designed feeders have a built-in ant moat that keeps bugs out, and feeding ports that prevent rain water from diluting the nectar solution.
They are easy to hang or pole-mount and easy to clean (it's top shelf dishwasher safe). These feeders are backed with a lifetime guarantee.