We are here to serve YOU!

Here are some of the services we can offer to you, our valued customer at Wild Birds Unlimited in Knoxville, Tennessee

Individual yard consultations
We can offer expert advice on the best way to attract birds to your yard, including feeder and/or nest box placement and specific food recommendations.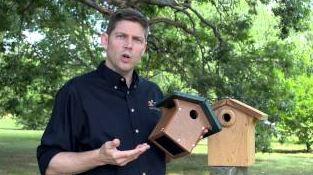 Want to attract Bluebirds to your yard?
We are the experts when it comes to Bluebird knowledge and can offer advice specific to attracting Bluebirds to your yard, including nest box placement and food recommendations.
In store bird talks and product information talks


We offer free in store talks. Sign up for our email list to receive notifications and invitations to these presentations
Quality Discounts: Buy More - Save More
It's called the

Daily Savings Club

®, and it allows you to save every day on the best birdfood in town.
Join the Daily Savings Club! You will get an extra 5% over the Sale price on food items and it only takes 200 points to get $10.00!

The Benefits from the Wild Birds Unlimited Daily Savings Club
Receive 15% off regular, every day bird and wildlife food prices and an additional 5% off sale prices of bird and wildlife food at the Wild Birds Unlimited store of purchase.

Get a $10 Bird Buck for every $200 dollars you spend on any merchandise in the store.

You'll also be rewarded with a FREE gift as well as Club-member-only specials.
The Perfect Gift for Every Nature Lover

Every nature lover is different, so finding the ideal gift for him or her can be difficult. That's why our Gift Cards are the perfect gift for every occasion. They allow your friend or loved one to choose what part of nature he or she wants to enjoy. The best part: our Gift Cards are redeemable at every Wild Birds Unlimited location.
Our Expert Advise
We are your backyard bird feeding specialists. We have many great ideas and answers to your questions about feeding and watching birds. We love to learn about new things when we talk with our customers too so stop by or call any time! We are interested! We would love to send someone over to your home and offer free advice on getting your backyard bird friendly, by locating feeders, birdbaths, and nesting boxes