Greetings from the Folks @ the Knoxville Wild Birds Unlimited® Nature Shop

Nature Products Designed by Experts - Trusted Local Advice!
Hummingbirds Return
From Southern Winter Homes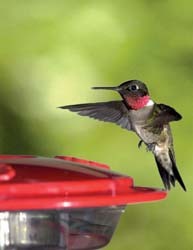 Prepare for your neighborhood to be all abuzz, because hummingbirds have been spotted throughout the area. These miniature marvels have been migrating between North and Central America for hundreds of years, a round trip in which millions of hummingbirds instinctively participate.
For the next few months, backyards around the area will be playing host to these amazing, food-frenzied birds. They possess the fastest metabolism of any animal on the planet, burning through between one to two times their body weight in food every day.
Despite popular belief, hummingbirds do not suck up nectar with their bills. They actually lap it up with their tongues, drawing nectar from its source up and into their mouths almost 12 times a second.
Hummingbirds will head back to Mexico and Central America in late summer, early fall.

Started streaming on Feb 27, 2017
We are at the start of the Bluebird nesting Season! R U ready?
Believe it or not, bluebirds are now scoping out neighborhoods to raise a family. They are looking for potential home sites (such as tree cavities or nest boxes) and reliable food sources. A bird's primary consideration when choosing a nesting site is security, protection from predators and proximity to food.
As early as February in our region Bluebirds first display nesting behavior. They will start by sitting on telephone wires or perched atop a nest box, calling out in a short, wavering voice or abruptly dropping to the ground after an insect. Male Eastern Bluebirds are a brilliant royal blue on the back and head, and warm red-brown on the breast. Blue tinges in the wings and tail give the grayer females an elegant look.
Bluebirds being cavity nesters will readily use an artificial nest box if you set one out in your back yard. Habitat and nest cavities had been disappearing for many years, but bluebirds have made an incredible come back due to thousands of bluebird nest boxes being installed across the country.
We at Wild Birds Unlimited have a large variety of Nesting Boxes available for you to choose from plus all the necessary hardware for mounting it out in your back yard. In many cases location in your yard is key to the success of attracting Bluebirds to your location. Come in and talk to one of our Back Yard Birding Specialist who can best advise you where to locate you nesting box to maximize your chances of attracting a pair of these wonderful birds.
EcoClean Feeders, Advancement in Bird Feeding

Join the Daily Savings Club! You will get an extra 5% over the Sale price on food items and it only takes 200 points to get $10.00!


The Benefits from the Wild Birds Unlimited Daily Savings Club
Receive 15% off regular, every day bird and wildlife food prices and an additional 5% off sale prices of bird and wildlife food at the Wild Birds Unlimited store of purchase.
Get a $10 Bird Buck for every $200 dollars you spend on any merchandise in the store.
You'll also be rewarded with a FREE gift as well as Club-member-only specials.
The Perfect Gift for Every Nature Lover

Every nature lover is different, so finding the ideal gift for him or her can be difficult. That's
why our Gift Cards are the perfect gift for every occasion. They allow your friend or loved one to choose what part of nature he or she wants to enjoy. The best part: our Gift Cards are redeemable at every Wild Birds Unlimited location.
If you need to check the balance on your Wild Birds Unlimited Gift Card, click here.